Christmas is creeping closer by the minute! Not that I'm complaining. I actually really love it! Christmas is my favorite holiday and I love the winter season so its an all around good time for me :)
When my hubby and I were dating, I never even saw so much as a string of Christmas lights get put up around this time of year...so sad! And then we got married! Our first year together, we had the whole shabang - the tree, the lights, the stockings, presents under the tree (even if it was only one present each), mistletoe and all the fun family things that go along with the holidays.
This year, I think I'm going to do more handmade items and it will be fun for the hubby and I to do some handmade gifts together! Check out these great gift ideas from last weeks link party:
If you are new to the party,

welcome!!

I am so happy to have you!! Please spread the word - the more the merrier!!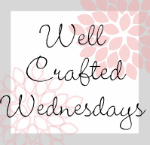 **PARTY RULES - PLEASE READ**
1) Please follow my blog!
2) Please grab the button above!
3) Please no links to giveaways or link parties!
4) Please visit at least a few of your fellow party-goers! We all love comments!!
Thank you for linking up!