I am a VERY amateur sewer (is that a word?) and I have an interesting question for everyone this week:
When creating clothing items for yourself, do you really NEED a serger or can you make great clothes with just a sewing machine?
I want to start making some cute bags and clothes for myself and I need a little advice :)
Anyways, here are the features from last weeks party!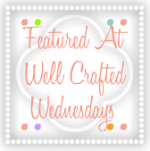 If you are new to the party, welcome!!! I am so excited to have you! The more the merrier so please spread the word!
PARTY RULES *
*
*
P
L
E
A
S
E
R
E
A
D
*
*
*
1: Please follow my blog!
2: Please grab my button bellow!
3: Please no giveaways or link parties!
4: Please visit your fellow party attendees! We all love comments :)
PLEASE GRAB THE BUTTON BELOW AND LETS PARTY!!